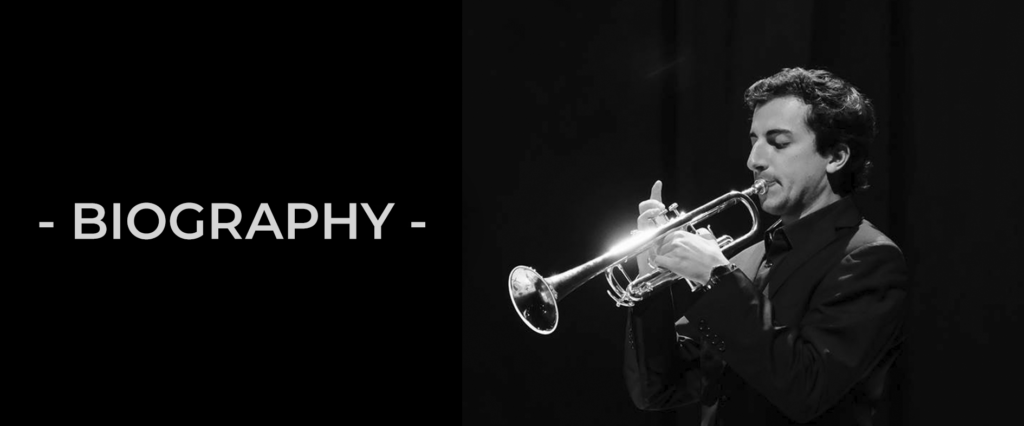 Born in 1996 into a French Italian-Hungarian family, Lucas Lipari-Mayer was named soloist of the Ensemble Intercontemporain in June 2018.
In September 2018, he was a semi-finalist in the ARD competition in Munich; in October 2018, he won 1st prize and the public prize at the Città di Porcia International Trumpet Competition (Italy) and in November 2019, 1st prize at the Théo Charlier International Competition (Belgium).
Lucas Lipari-Mayer studied at the CRR de Paris with Gérard Boulanger, Serge Delmas and Clément Saunier where he unanimously obtained the 1st Prize of the CRR de Paris in June 2013, after having won numerous successes and various national and international competitions (Jeju-South Korea, Alençon, Selmer, RIC Namur…).
In May 2017, he obtained his Bachelor of Fine Arts at CalArts (California Institute of the Arts- Los Angeles), under the tutelage of Edward Carroll, training mainly devoted to new and experimental music, which allowed him to explore different directories.
Since then, he obtained his Master's degree in Malmö (Sweden) at the Musikhögskolan with the internationally renowned trumpeter Håkan Hardenberger and continued to perfect his skills with Reinhold Friedrich at the Musikhoschule in Karlsruhe until 2021.
He has played and plays regularly with various groups and orchestras: Paris Opera, Orchester Philharmonique de Radio France, Orchester de Paris, Ensemble Intercontemporain, Ensemble Musikfabrik, Malmö Symphony Orchestra, Orchester de Chambre de Paris, Malmö All Star Brass Ensemble, Kaleidoscope Chamber Orchestra, American Youth Symphony Orchestra, Brass Band Aeolus, Carillon Quartet and the Los Angeles-based experimental company: The Industry.
He also regularly performs as a trumpet-singing or trumpet-organ duo as part of various cultural events (Bach Festival, events in Saint-Eustache with Thomas Ospital) but also as a soloist as in March 2022, where he played in soloist alongside Simon Höfele and Vladimir Jurowski in the double trumpet concerto 'Falling Stars' by Matthias Pintscher with the Dresden Staatskapelle Orchestra.
In 2024, he will make his debut as a soloist with the Royal Stockholm Philharmonic as well as the RAI Orchestra in Turin.
At the same time, Lucas is a professor at the Conservatory of the 7th arrondissement of Paris.
Lucas is a Yamaha Artist.